Term 3 ends this Friday 23 September - we return to school for Term 4 on Monday 10 October
Our amazing festival will happen on the Sunday of Labour Weekend at the end of Week 2: Sunday 23 October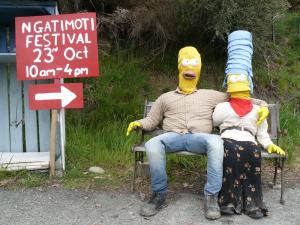 Term 3 ends this Friday 23 September - we return to school for Term 4 on Monday 10 October Image ©
We are proud to be a Green-Gold enviro-school, catering for students from Year 1 to Year 8 in 4 classrooms. Situated 20km south of Motueka, Ngatimoti School sits alongside the Motueka River and faces the mountains of Kahurangi National Park.
We encourage parents to be involved in their children's education, and we often draw on our local community's resources to enhance students' learning.
We have an enthusiastic Board of Trustees and Parent Group. Our strategic goals are to build literacy and numeracy capabilities, and to develop creativity, well being and identity. Our parents play a major role in the organisation of our now infamous annual Festival, held on school grounds on the Sunday of Labour weekend EVERY YEAR!
In December 2012, we received a positive ERO report. "A welcoming environment and strong emphasis on respectful relationships and celebrating achievement supports students to feel confident, proud and valued." Our next review is expected in 2017/18. You can view our latest report from the Education Review Office website here
Ngatimoti School Charter