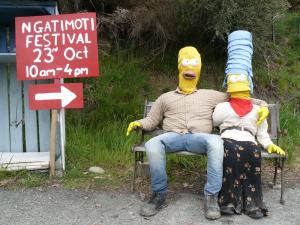 Image ©
This term we will have lots of science learning to look forward to, with a science fair as an opportunity to share our learning with the community. As well, we have the new buildings to open, probably about half way through the term. This will include the new library space, and so we will celebrate this with a Book Week. We have El Gregoe the magician coming back, a Puss in Boots show coming, the Life Ed truck here and Sport Tasman here each Friday to teach us new sports skills. What a lot of learning to look forward to!
Glenn will again offer music lessons, and we will continue some enviro work at Ian and Jocelyn's Thorn's property, as well as our stream project at the Hadley's.
The BOT and staff work hard to ensure our students have a range of learning experiences, but a lot of learning is really about people. When we enroll a child we like to think that we are enrolling a family, welcoming parents and extended families in to our school. It is by having lots of interactions, varying perspectives and a mix of experiences that the adults at school also learn from one another, in order to provide the best possible learning experiences for the students. If you are interested in what is happening here at school, please don't hesitate to make a time to come in. If you are interested in enrolling your child, we will be especially pleased to see you! Please phone 526 8842 for an appointment.
Ngatimoti School Charter